Prices From
£225.00 (Per Player - 4 Ball)
Scottish Golf Day Experience – One of the oldest and most picturesque courses in Scotland Stirling Golf Club
Scotland is the Home of Golf and has over 550 Courses to choose from, there are the prestigious courses we all dream of playing but some of the very best experience can be had playing our hidden gems.
Stirling Golf Club is one of those Hidden Gems, with rich history and the stunning backdrop of the Scottish Highlands and Stirling Castle. You will have a truly fantastic Scottish Golf experience playing the Tom Morris designed course.
With links to King James IV who arguably made his greatest contribution to Scottish culture on a winters day in 1506. The King joined by the Earl of Bothwell played the second game of Golf ever documented in Scotland on the hunting grounds at the base of Stirling Castle.
What was not recorded was the score, or whether they played winter rules, or whether the king got any strokes or mulligans.
After more than five hundred years, however, what is remembered is the game's dramatic location at the foot of Stirling Castle. Scarcely a more dramatic location for golf exists in all of Scotland, the Home of Golf.
The day is put together to give you the very best Scottish Golf Experience using local drivers and guides all who play golf and have a passion for showing visitors to Scotland the Hidden Gems and the true Scotland.
Your Scottish Golf Day Experience:
Door to Door Luxury Travel by your own local Scottish Local & Luxury Vehicle
Breakfast Rolls or Lunch with Hot Drinks on arrival at Stirling Golf Club
18 Holes of Golf round one of the oldest Golf Courses in Scotland
Photos at the First Tee and 18th Green
Experience Costs:
Single Player – £900.00
2 Ball – £450.00 Per Player
3 Ball – £300.00 Per Player
4 Ball – £225.00 Per Player
Experience Extras:
Local Scottish Course Guide – £100.00 Per Group
Club Hire – £30.00 Per Player
Golf Buggy – £30.00 Per Player
Electric Trolly – £10.00 Per Player
Golf Lesson – £35.00 Per Person / £60.00 – 2 or 4 Ball
Lunch or Dinner after Golf – Please Click Here for details
Stirling Golf Club Introduction:
With the inspiring backdrop of Stirling, built on ancient volcanic slopes, and crowned by the historic Castle rising above the spectacular crags. There are stunning views from the course in all directions – the Ochil and Lomond Hills to the east, the Carse of Stirling, the Trossachs and the Southern Highlands beyond.
Set in the old royal hunting grounds of the Kings Park, Stirling Golf Club has a course of excellent quality and unique character – a golfing experience not to be missed.
More than 350 years after James IV played his historic round in the King's Hunting Park, the Stirling Golf Club formed in 1869.
Young Tom Morris, British Open Champion four times in a five-year stretch, and a charter member of golf's pantheon, was brought in as the club's first golf professional in 1869 at the age of 18. The year after he and his famous father, Old Tom Morris (also a four-time Open Champion and the greens keeper at St Andrews), finished one-two in the Open Championship at Prestwick.
Despite its position at the foot of the Stirling Castle escarpment, Stirling Golf Course is remarkably flat. At a little over 6,100 yards, the course is also fairly short for a regulation 18-hole, par-72 course with 4 par-5s and 4 par-3s.
And, because the parkland course is not subject to the winds and open weather conditions of a Scotland seaside links, the course rarely plays long.
However, the Stirling course is not without impediments. The great English golfer, Sir Henry Cotton, saw to that, when he gave Stirling Golf Club a complete course makeover in 1967, planting many deciduous trees that have since matured to define the fairways and add beauty to the course year round.
The trees, lush fairways, and castle backdrop make Stirling Gold Club. an eye-pleasing layout even in overcast conditions. But, in fine weather expansive view looking towards the Trossachs mountains of Scotland's Central Highlands makes Stirling's handsome natural setting almost distracting.
We are also proud to be part of the world famous James Braids reciprocal association and have close links with a number of other local courses, so planning a golf outing in Central Scotland can provide golfers a rare treat if you want to add a new experience to your trip to Scotland.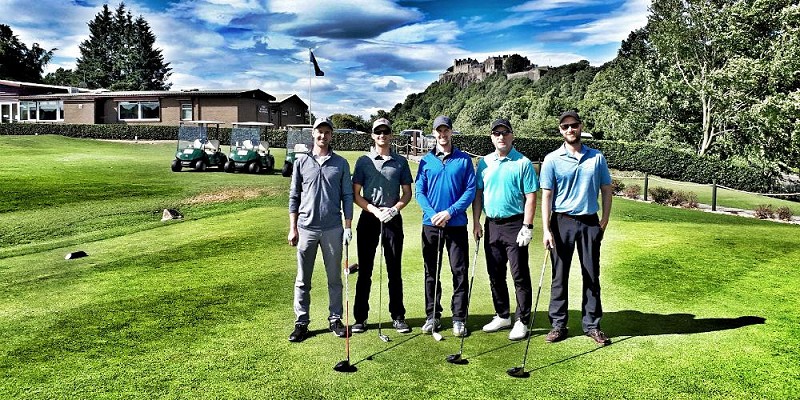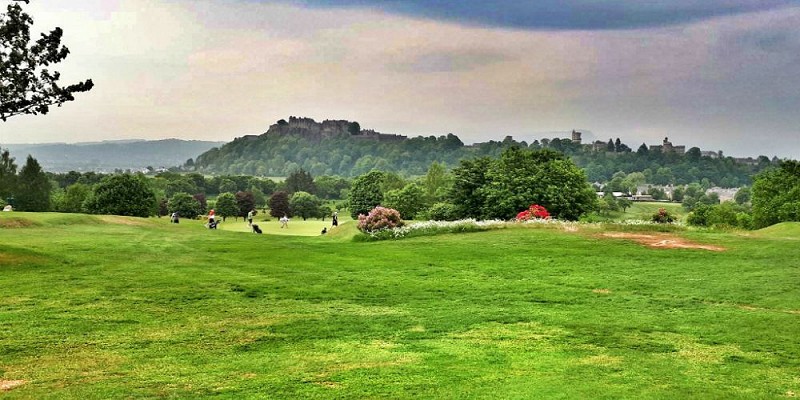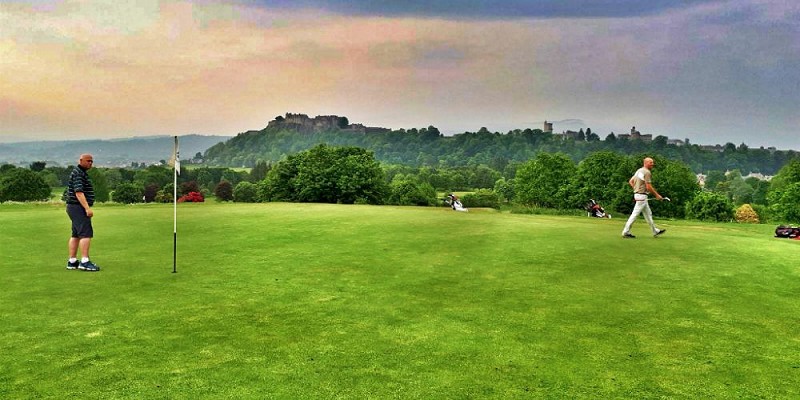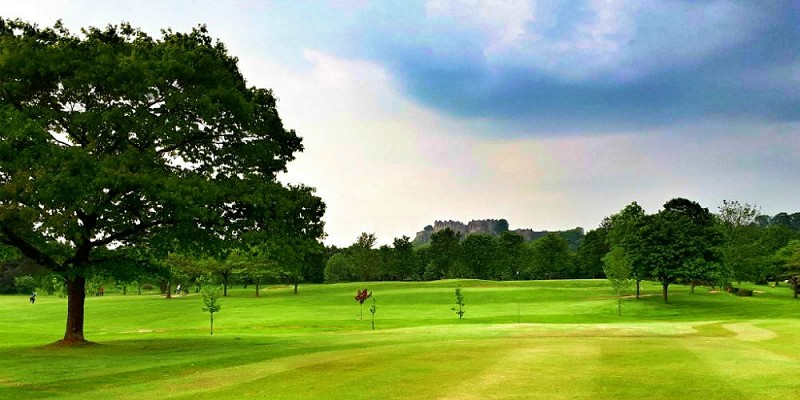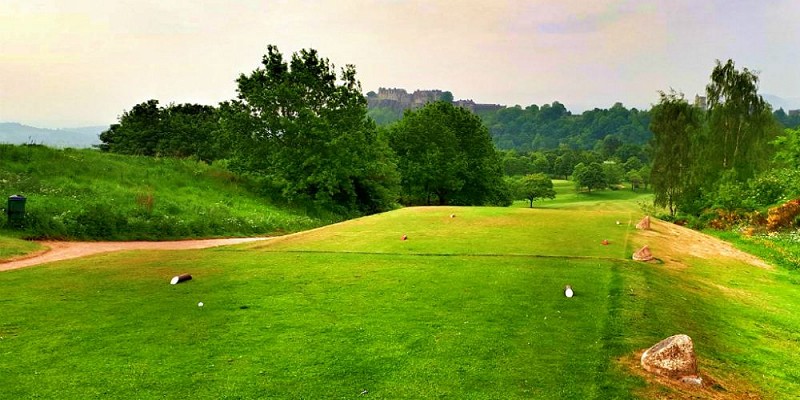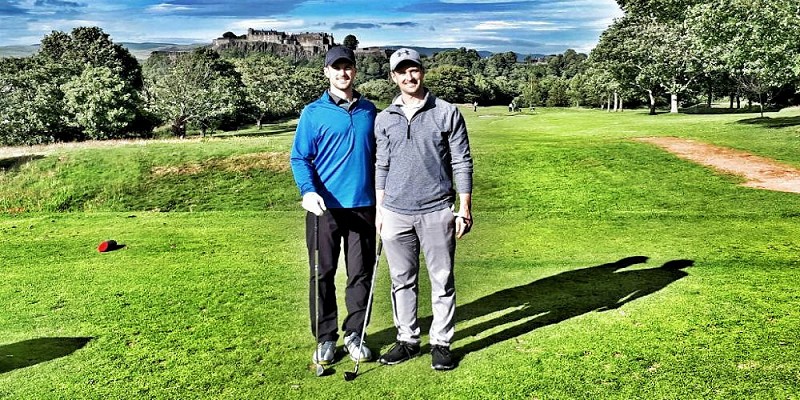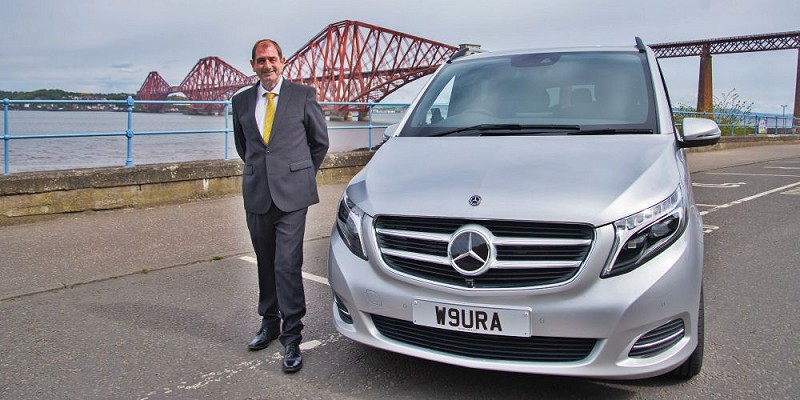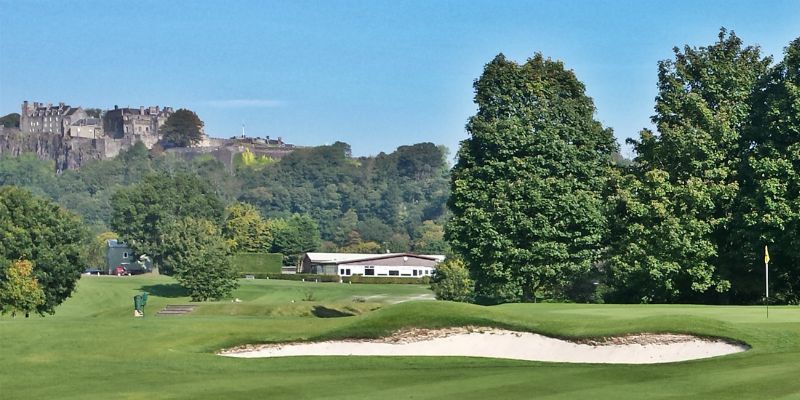 2 Ball Scottish Golf Expereince, 4 Ball Scottish Golf Experience, Club Hire, Golf Lesson, Golf Breakfast, Golf Lunch,
Golf Travel with Aura Journeys?
With years of experience providing Chauffeur Transfers to Golfers and their fellow travellers, we pride ourselves on the service given to every client and traveller.
Appropriate insurance for "Hire and Reward" and excellent public liability cover are in place, ensuring we are working to the rules & regulations of our operating areas.
All Chauffeurs and Guides have been DBS Security checked for your peace of mind and safety.
Drivers have also completed the Aura Journeys driver training program which has continual reviews and assessments.
Vehicles all offer complimentary Wi-Fi and Bottled water along with being valeted prior to your journey.
Our Services are available to Business and Private travellers who require a professional high-quality service whilst getting competitive pricing.
Luxury Golf Tours in Scotland