Explore Edinburgh without the hassle of planning, on a Private Tour with door-to-door service.
You tailor the day's itinerary according to your needs and interests, with potential stops from Edinburgh Castle to The Royal Yacht Britannia.
Unlike impersonal large-group tours, this private experience ensures your own customised experience.
Avoid hectic public transport and large group tours with your own private local Scottish driver
Save Time and Personalise the schedule to your tastes and interests with no compromise for others
Hassle-free Door-to-Door pickup and drop-off is included from any Edinburgh Location
See the best Edinburgh has to offer on this comprehensive tour ideal for first-time visitors
As this Tour is Private you can decide on the locations you wish to visit, below are some suggestions, please confirm before arrival the locations you wish to visit so we can plan your own itinerary remember this can change as being a Private Tour you call the shots.
Calton Hill & National Monument:
Calton Hill and the National Monument are situated in Central Edinburgh, east of Edinburgh's New Town.
Marked as a UNESCO World Heritage Site, Calton Hill has some of the city's best views and if you get up early, the best sunrises.
Calton Hill is also resident to some iconic Scottish monuments and buildings. Monuments include the National Monument, Dugald Stewart Monument, Nelson's Monument, the Old Royal High School, Robert Burns Monument, Political Martyrs' Monument and also the City Observatory.
The City Observatory is now home to Collective, a free, contemporary art space with a programme of world-class exhibitions, events, workshops and discussions from ground-breaking local and international artists.
Mobility: Easy
The Grassmarket and Old Town:
Once a medieval market place and site for public executions, the Grassmarket area is now a vibrant area buzzing with eclectic shops. Its detailed medieval architecture, stunning castle views and dynamic atmosphere make it one of the city's most-loved areas, frequented by tourists, students and professionals alike. Though Grassmarket executions ceased in 1784, some of the traditional area's pubs, such as The Last Drop and Maggie Dickson's, keep alive the bloody tale of a chequered past. The White Hart Inn has played host to some famous patrons, including Robert Burns. Fashion fans will uncover a wealth of gems at Armstrongs Vintage Emporium, a haven of retro clothes and quirky accessories, while Fabhatrix offers beautiful hand-made hats and accessories, perfect for a Scottish summer shower or winter frost. From here we move on to the mighty fortress towering above Edinburgh Castle.
Mobility: Medium
Edinburgh Castle:
Explore Edinburgh Castle at your own pace, our castle is one of the most exciting historic sites in Western Europe. Set in the heart of Scotland's dynamic capital city, it is sure to capture your imagination. The scenery will take your breath away. There are many ways to experience Edinburgh Castle. Go straight to an exciting part, follow an itinerary, or allow an audio guide to show you around. Edinburgh Castle is alive with exciting tales of its time as a military fortress, royal residence and prison of war. When you climb Castle Hill, you will walk in the footsteps of soldiers, kings and queens – and even the odd pirate or two. Exploring Edinburgh Castle is a highlight of any Scottish adventure, memories will be created and long remembered. On completion of your time here you will walk out of the gatehouse and down to the Royal Mile.
Mobility: Medium
The Royal Mile: (Walked on Foot)
As you depart Edinburgh Castle you will walk the Royal Mile down to the Palace of Holyroodhouse. Edinburgh's Royal Mile is the heart of Scotland's historic capital. Running through the heart of Edinburgh's Old Town, connecting the magnificent Edinburgh Castle, with the splendorous Palace of Holyroodhouse, resting in the shadow of Arthur's Seat. The Mile is overlooked by impressive, towering tenements, between which cobbled closes and narrow stairways interlock to create a secret underground world. Peppered with superb attractions and historical sites including St Giles' Cathedral and some of the best eating and drinking spots in the city, the Royal Mile offers much to see and do. A great location to stop and take lunch whilst taking in some Scottish hospitality. For a glimpse of recent history, be sure to visit the ultra-modern Scottish Parliament, a striking building boasting a cutting-edge design. You will be met at the end of the Royal Mile to continue your tour of Edinburgh.
Mobility: Medium to Challenging
The Palace of Holyroodhouse:
The Palace of Holyroodhouse The official residence of the King in Scotland. Open throughout the year, the Palace of Holyroodhouse stands at the end of Edinburgh's Royal Mile. Explore the Palace's close associations with some of Scotland's most well-known historic figures such as Mary, Queen of Scots and Bonnie Prince Charlie, and learn how today it is used by The King when carrying out official engagements in Scotland. At the Palace of Holyroodhouse, visitors can explore magnificent historic and State Apartments, the beautiful ruins of the 12th-century Holyrood Abbey and remarkable royal gardens, all with a complimentary multimedia tour in 10 languages. Best known as the home of Mary, Queen of Scots, the Palace was the setting for many dramatic episodes in her short reign. Today, the State Apartments are used regularly for State ceremonies and official entertaining. The Palace is closed when in use by the Royal Family so please check your tour date for entry.
Mobility: Medium
Holyrood Park: (Pass Through)
Take a Drive through Holyrood Park and around Arthurs Seat the extinct volcano overlooking Edinburgh with some spectacular views. If feeling adventurous you can take a hike to take in unparalleled vistas of the city, this takes around 45min to complete so may require changes to the itinerary for the day if required.
Mobility: Medium to Challenging
Edinburgh New Town: (Pass Through)
The initial plan for Edinburgh's New Town was approved by the City Council in 1767, and is the largest complete example of town planning from the Georgian period anywhere in the world. Its mixture of classical architecture, grand squares and terraces, gardens and secluded lanes, means that a walk through its streets is a journey back in time to an age of elegance. Highlights of the New Town Charlotte Square, designed by the architect Robert Adam in 1791, is regarded as an architectural masterpiece. Here you can visit the Georgian House and gain some insights into daily life from 200 years ago. In nearby George Street the Assembly Rooms, which date from 1787, is still used for concerts, dancing and entertainment. At the opposite end of George Street is St Andrew Square, where the gardens are now open to the public.
Mobility: Easy
Royal Yacht Britannia:
Follow in the footsteps of Royalty and explore this floating Royal residence with a fascinating audio tour of five decks. The Royal Yacht Britannia played host to some of the world's most famous people, from Nelson Mendela to Winston Churchill, but above all was home for the British Royal Family for over 40 years. Now berthed in Leith, Edinburgh, you can discover the heart and soul of this most special of Royal residences. You'll receive a truly warm welcome at Britannia's Visitor Centre in Ocean Terminal before you step aboard this famous ship where you will discover the history of Royal Yachts and view displays and historical photographs of Britannia's fascinating past before boarding The Royal Yacht Britannia. What will you see? Tour Britannia's five decks Feel like the captain of the ship in the Bridge See Queen Elizabeth II's favourite room- the Sun Lounge Discover below decks in the Crew's Quarters Take in the Royal Sailing Exhibition
Mobility: Medium
The Forth Bridges: (Photo Stop)
The three Forth Bridges are an impressive sight as they across the Firth of Forth, as well as providing transport links between Edinburgh and Fife. The Forth Bridge is one of Scotland's major landmarks, and is a UNESCO World Heritage Site.This magnificent railway bridge was built between 1883 and 1890 by Sir John Fowler, Benjamin Baker and over 4,500 men. Considered to be an impressive feat in engineering, it was designed on the cantilever principle, and its three towers are over 100 metres high. It stretches 2.5 kilometres between the villages of South Queensferry and North Queensferry, and was opened on 4th March 1890 by Edward, Prince of Wales. A great location to get a pictures of a Scottish Landmark with you in it. From here we make our way back to your finish point in Edinburgh.
Mobility: Easy
Your sightseeing tour finishes where you started, the Door to Door experience helps you enjoy the full tour without the worry of finding you way back at the end of the day.
There are many other attractions in and around Edinburgh, please message us and we will put together your very own Edinburgh Itinerary.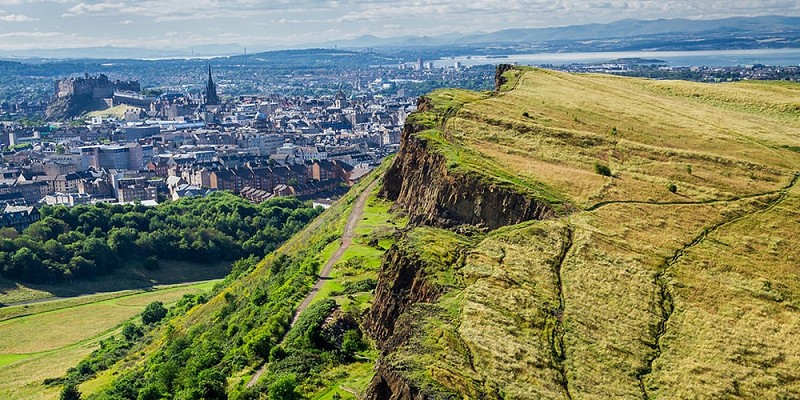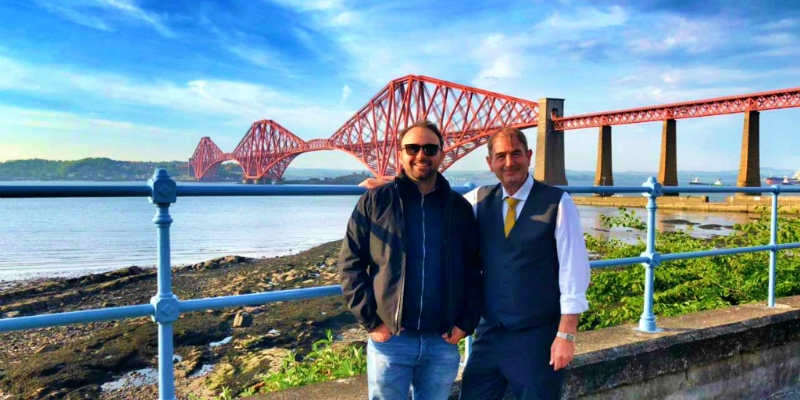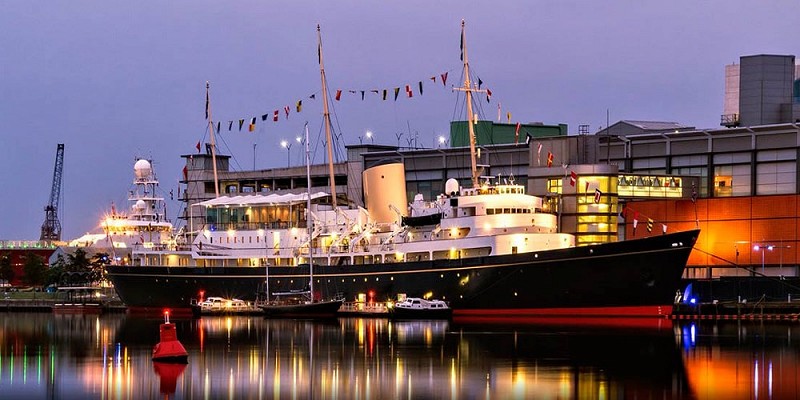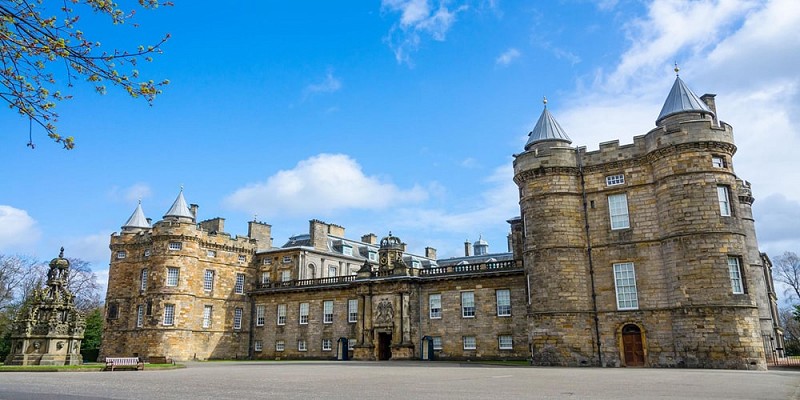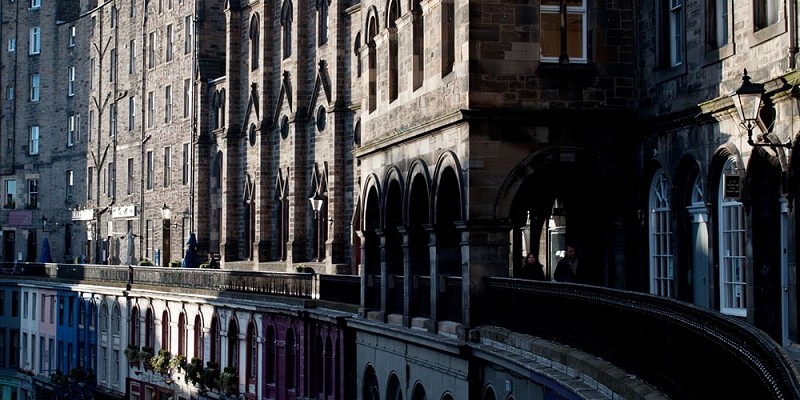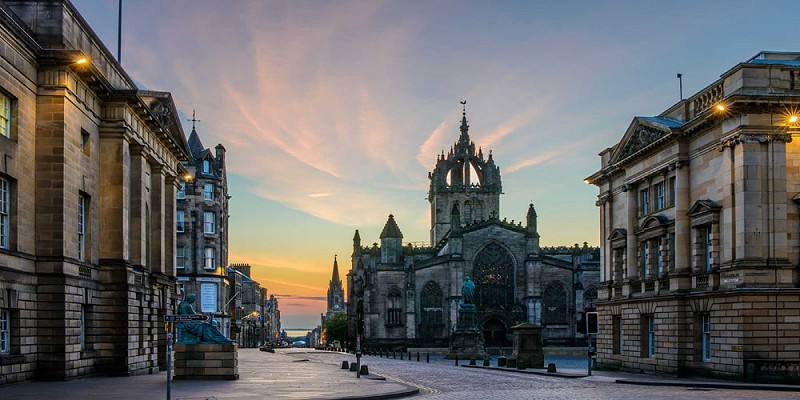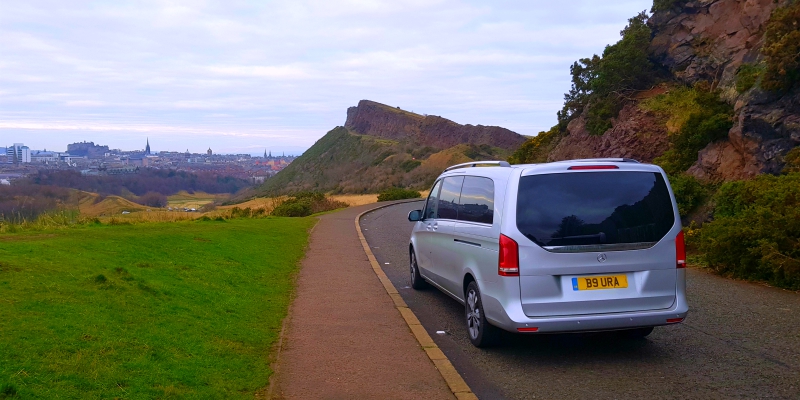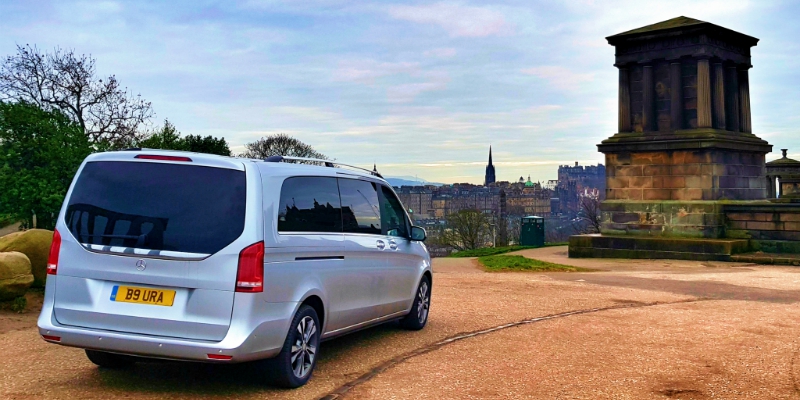 Luxury Private Tours in Scotland
Edinburgh Castle, Edinburgh Grassmarket,The Royal Mile, The Palace of Holyroodhouse, Holyrood Park, Edinburgh New Town, Royal Yacht Britannia, The Forth Bridges, Craigmillar Castle, Rosslyn Chapel, Arthurs Seat, Calton Hill
Why choose Aura Journeys?
Private Scottish Day Tours from Edinburgh
With years of experience providing Private Day Tours in Scotland from Edinburgh, we pride ourselves on the service given to every client and traveller.
Appropriate insurance for "Hire and Reward" and excellent public liability cover are in place, ensuring we are working to the rules & regulations of our operating areas.
Drivers have also completed the Aura Journeys driver training program which has continual reviews and assessments.
Vehicles all offer complimentary Wi-Fi and Bottled water along with being valeted prior to your journey.
Our Services are available to all visitors to Scotland who require a professional high-quality service whilst getting competitive pricing.
Luxury Private Tours in Scotland